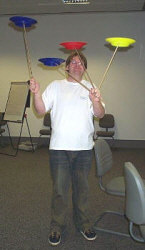 Kris runs workshops for all manner of different groups:
schools, after school clubs, Brownies, Guides, Cubs, Scouts, corporate teambuilding groups, fun days, carnivals, etc.
The format of the workshop can be varied to suit the situation. It can be a "drop in "workshop, where people come and go during the course of the event (such as fun days), or it can be more structured, teaching the individual skills in blocks through the session.