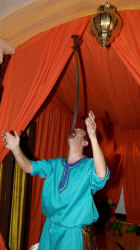 Kris has a number of characters which can offer shows. He is available as:
a Traditional Street Entertainer, a Jester, a Fakir, a Victorian gentleman, a Roman, a Cowboy, a Caveman, a Zombie or could offer a character of your choice given sufficient time to get a costume together.
His shows last at least half an hour, and feature full audience participation. The content can vary depending upon the nature of the event and the venue.
Common elements are usually:
Diabolo, juggling the Walk of Death, a precarious chair and plank balance (unique to Kris), juggling while lying on a bed of nails and walking across broken glass.
The show can be tailored to the event, so could exclude some of the above and include other skills such as object balancing, unicycling etc....